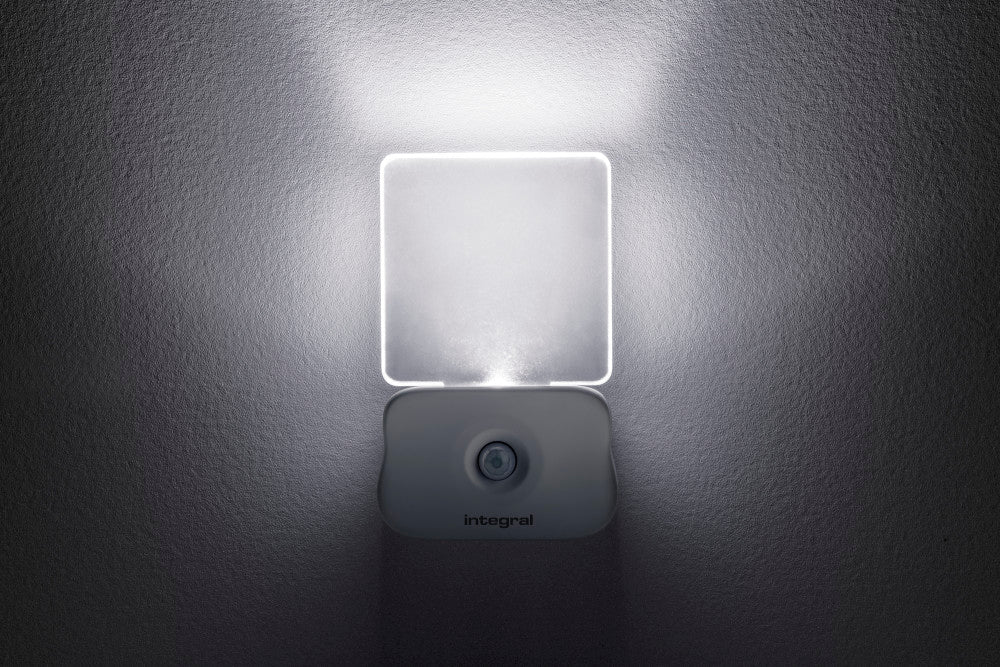 MOTION SENSOR NIGHT LIGHT BATTERY POWERED WHITE INTEGRAL
Safely navigate the dark without fumbling for a switch - fitted with a motion sensor that automatically switches on when you come within 3 meters. Automatically switches off if no movement is detected for 30 seconds.
The light also features an auto daylight sensor, meaning it will only come on in dark conditions, therefore saving battery life. A handy red light will appear when batteries are low, allowing you to swap them out without ever being left in the dark!
The soft, gentle glow offers a subtle illumination without waking the rest of the house up.
The Night Light is cool to touch and its low profile design will look stylish in any setting.
Motion Sensor and Auto Off in well-lit environments3 x AAA batteriesStylish design
Base Term :
Bulb Base :
Bulb or Luminaire Shape :Round
Construction :Polycarbonate casing and diffuser
Cut Out Diameter (mm) :
Cut Out Diameter (Range) :
Diameter (mm) :
Globe Finish :
Globe Type :
Length (m) :
Linkable :
Luminaire Fixing :Ceiling, Wall
Material :Polycarbonate
Max Run Length (m) :
Max Strip Width (mm) :
Mounting Type :
Optic :Polycarbonate diffuser
Overall diameter (mm) :250
Overall diameter (Range) :210 to 260
Placement / Application :Indoor, General Lighting
Product Depth (mm) :102
Product Length (mm) :
Product Width (mm) :
Product Weight (g) :500
Spot Type :
Strip Cut Points :
Strip Width (mm):
Beam Angle :
Beam Angle (Range) :
Colour Rendering Index (CRI) :
Colour Temperature :
Colour Temperature Name :Cool White
Compatible Dimmers :
Correlated Colour Temperature (CCT) (K) :
LED Type :
Lifetime (hours) :30000
Lighting Method :Edge-lit
Lumens in Emergency mode (lm) :
Lumens per meter (lm/m) :
Lumens Range :
Luminous efficacy (lm/W) :
Luminous Flux in Lumens (lm) :7
Sensor / Overide :
Switching Cycles:
Amperage (mA) :25
Battery Configuration :
Dimming :Non-Dimmable
Driver Included :
Electric Current :
Emergency Battery Life (years) :
Emergency Lumens (lm) :
Emergency Type :
Emergency Category :
PIR :
Input Current (A) :
Input Voltage (V) :
Insulation Guard :
Output Current (mA) :
Output Voltage (V) :
Power Consumption (Range) :
Power Consumption (w) :0.5
Power Consumption per meter (W/m) :
Protection Function :
True Wattage Eq (W) :
Voltage Range (v) :
Wattage equivalent (W) :
Watts per metre :
EN :EN-60598
LVD Certified:Yes
New Energy Rating :
IK Rating (Impact Protection) :
IP Rating (Back/Recessed side) :
IP Rating (Ingress Protection) :
Lowest Operating Temperature (°C) :
Maximum Operating Temperature (°C) :
CE RoHS :Yes
Package Length (mm) :720
Package Width (mm) :51
Package Depth (mm) :119
Package Weight (g) :92