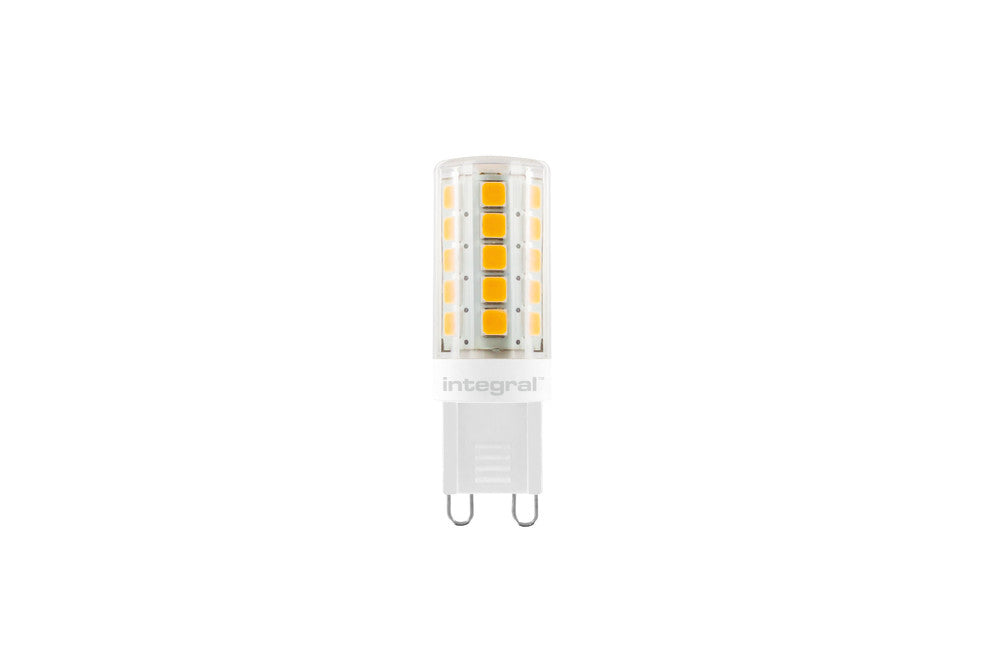 G9 BULB 300LM 3W 2700K DIMMABLE 300 BEAM CLEAR INTEGRAL
THIS ITEM IS NOW UPGRADED OR DISCONTINUED. CONTACT US TO FIND A REPLACEMENT PRODUCT.
This Integral LED G9 lamp offers a high lumen output in 2700K. At 3W this smooth dimming capsule lamp is highly efficient compared to the halogen lamps they are designed to replace. Ideal for pendant fittings and accent lighting in domestic, hospitality and retail applications.
Warm300 LumensDimmable with compatible dimmers
Barcode :5055788232056
Category :Lamps
Features :
Market Segment :Commercial indoor, Residential indoor
Product Body Finish :
Product Type :G9
Range Name :G9
Warranty (Years) :2
Base Term :
Bulb Base :
Bulb or Luminaire Shape :Round
Construction :Polycarbonate casing and diffuser
Cut Out Diameter (mm) :
Cut Out Diameter (Range) :
Diameter (mm) :
Globe Finish :
Globe Type :
Length (m) :
Linkable :
Luminaire Fixing :Ceiling, Wall
Material :Polycarbonate
Max Run Length (m) :
Max Strip Width (mm) :
Mounting Type :
Optic :Polycarbonate diffuser
Overall diameter (mm) :250
Overall diameter (Range) :210 to 260
Placement / Application :Indoor, General Lighting
Product Depth (mm) :102
Product Length (mm) :
Product Width (mm) :
Product Weight (g) :500
Spot Type :
Strip Cut Points :
Strip Width (mm):
Beam Angle :300
Beam Angle (Range) :
Colour Rendering Index (CRI) :80
Colour Temperature :2700K - Warm
Colour Temperature Name :Warm
Compatible Dimmers :
Correlated Colour Temperature (CCT) (K) :2700
LED Type :SMD
Lifetime (hours) :15000
Lighting Method :
Lumens in Emergency mode (lm) :
Lumens per meter (lm/m) :
Lumens Range :250 to 470
Luminous efficacy (lm/W) :100
Luminous Flux in Lumens (lm) :300
Sensor / Overide :
Switching Cycles:7500
Amperage (mA) :14
Battery Configuration :
Dimming :Dimmable
Driver Included :Yes
Electric Current :AC
Emergency Battery Life (years) :
Emergency Lumens (lm) :
Emergency Type :
Emergency Category :
PIR :
Input Current (A) :
Input Voltage (V) :
Insulation Guard :
Output Current (mA) :
Output Voltage (V) :
Power Consumption (Range) :1.5 to 3
Power Consumption (w) :3
Power Consumption per meter (W/m) :
Protection Function :
True Wattage Eq (W) :
Voltage Range (v) :220-240
Wattage equivalent (W) :28
Watts per metre :
EN :EN-62560
LVD Certified:Yes
New Energy Rating :E
IK Rating (Impact Protection) :
IP Rating (Back/Recessed side) :
IP Rating (Ingress Protection) :IP20
Lowest Operating Temperature (°C) :-20
Maximum Operating Temperature (°C) :45
CE RoHS :Yes
Package Length (mm) :20
Package Width (mm) :20
Package Depth (mm) :54
Package Weight (g) :15