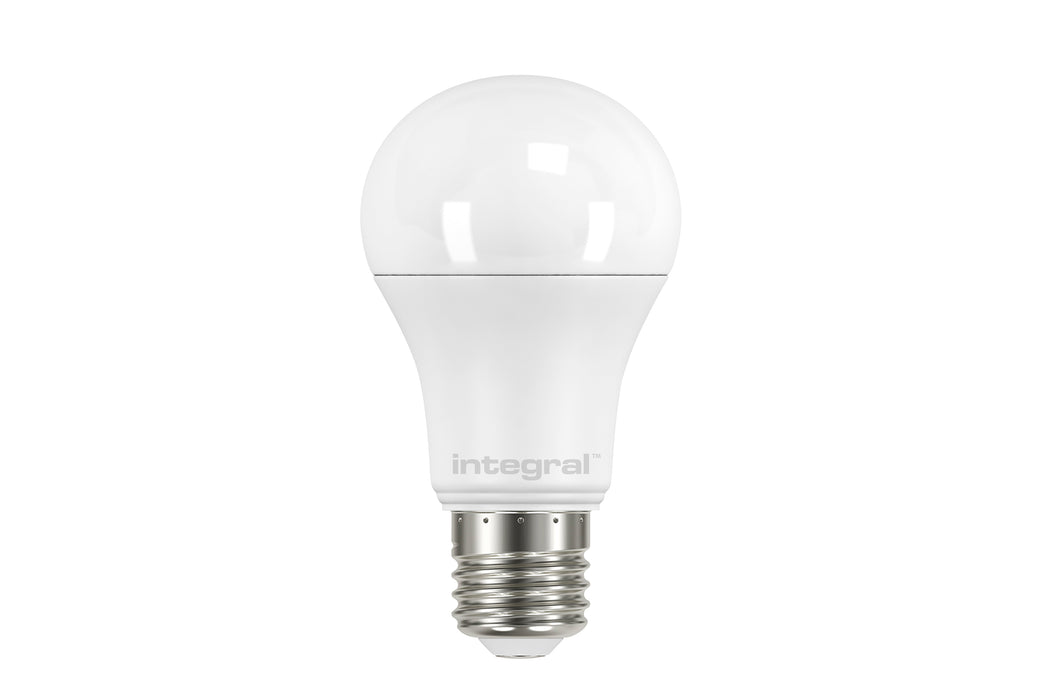 GLS BULB E27 1060LM 11W 2700K NON-DIMM 220 BEAM FROSTED INTEGRAL
THIS ITEM IS NOW UPGRADED OR DISCONTINUED. CONTACT US TO FIND A REPLACEMENT PRODUCT.
This 11W retro-fit Integral LED Classic Globe (GLS) (large screw base) delivers a warm light and brightness, similar to a 75W filament bulb. It features high output LEDs, an anti-glare refractor, all finished in an aluminium and plastic, thermally efficient body. Ideal for living rooms, hallways and kitchens.
Warm Light1060 LumensNon-Dimmable
Barcode :5055788208785
Category :Lamps
Features :
Market Segment :
Product Body Finish :
Product Type :GLS
Range Name :Everyday
Warranty (Years) :2
Base Term :
Bulb Base :
Bulb or Luminaire Shape :Round
Construction :Polycarbonate casing and diffuser
Cut Out Diameter (mm) :
Cut Out Diameter (Range) :
Diameter (mm) :
Globe Finish :
Globe Type :
Length (m) :
Linkable :
Luminaire Fixing :Ceiling, Wall
Material :Polycarbonate
Max Run Length (m) :
Max Strip Width (mm) :
Mounting Type :
Optic :Polycarbonate diffuser
Overall diameter (mm) :250
Overall diameter (Range) :210 to 260
Placement / Application :Indoor, General Lighting
Product Depth (mm) :102
Product Length (mm) :
Product Width (mm) :
Product Weight (g) :500
Spot Type :
Strip Cut Points :
Strip Width (mm):
Beam Angle :220
Beam Angle (Range) :220+ 160 to 220
Colour Rendering Index (CRI) :80
Colour Temperature :2700K - Warm
Colour Temperature Name :Warm
Compatible Dimmers :
Correlated Colour Temperature (CCT) (K) :2700
LED Type :Surface mounted device (SMD)
Lifetime (hours) :15000
Lighting Method :
Lumens in Emergency mode (lm) :
Lumens per meter (lm/m) :
Lumens Range :850 to 1500
Luminous efficacy (lm/W) :96
Luminous Flux in Lumens (lm) :1060
Sensor / Overide :
Switching Cycles:7500
Amperage (mA) :104
Battery Configuration :
Dimming :Non-Dimmable
Driver Included :Yes
Electric Current :AC
Emergency Battery Life (years) :
Emergency Lumens (lm) :
Emergency Type :
Emergency Category :
PIR :
Input Current (A) :
Input Voltage (V) :
Insulation Guard :
Output Current (mA) :
Output Voltage (V) :
Power Consumption (Range) :8 to 15
Power Consumption (w) :11
Power Consumption per meter (W/m) :
Protection Function :
True Wattage Eq (W) :
Voltage Range (v) :220-240
Wattage equivalent (W) :75
Watts per metre :
EN :EN-62560
LVD Certified:Yes
New Energy Rating :
IK Rating (Impact Protection) :
IP Rating (Back/Recessed side) :
IP Rating (Ingress Protection) :IP20
Lowest Operating Temperature (°C) :-20
Maximum Operating Temperature (°C) :40
CE RoHS :Yes
Package Length (mm) :140
Package Width (mm) :68
Package Depth (mm) :68
Package Weight (g) :184